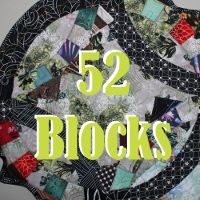 Before we get started – Happy New Year! I hope you all had a wonderful fun and safe celebration last night. But now that's is 2014 I'm 'done' (well sort of) with my reorganization project in my studio and I'm ready to start sewing again!
I hope you enjoy this little 'twist' I put onto the Tradition block 'Square Dance'.
Finished Block Size – 12" x 12"
This tutorial is just for the Dancing Square Dancing Whale Block. I decided to make my block into a pillow which you can see in the picture on the cover but you could do whatever you wish with this block.
Cutting Instructions
Fabric 1: Whale (Purple):
1 – 2.5" square (draw diagonal)
Fabric 2: Corners (Glittery White)
4 – 2.5" x 2.5"
Fabric 3: Sides and Water Spout (light blue print)
4 – 2.5" x 4.5"
2 – 2.5" x 2.5"
1 - 2.5" x 6.5"
Fabric 4: Top (darker blue)
2 – 2.5" x 4.5"
Fabric 5: Triangles (turquoise)
4 – 2.5" x 2.5"
Directions
On the 2.5" squares of fabrics 1, 3 and 5 draw a diagonal line from one corner to the other.
Place the square of fabric 5 onto the rectangle of fabric 3.
Sew from the center to the corner along the line.
Trim the corner and iron towards the corner fabric. Repeat this step for the other six rectangles.
You will be sewing two 2.5" x 4.5" blocks in this orientation.
Two blocks 2.5" x 4.5" in this orientation.
One 2.5" x 4.5" block in this orientation.
One 2.5" x 4.5" block in this orientation.
Next, take the 2.5" x 8.5" strip of Fabric 3 and sew on a corner of fabric 1 using the same method as you did on the smaller rectangles.
Lay your pieces out like I've shown in the above picture.
Sew the pieces all together to make the 12.5" block. I gave you a few tips on how to sew them together below.
Start by sewing your 2.5" x 4.5" rectangles together. You can iron to either side. You'll be left with 2.5" x 8.5" rectangles.
Sew the white corners onto the bottom and lower rectangle – iron toward the white.
Sew the left and right strips to the purple square. Iron towards the purple.
Now, sew all three strips together. I would iron towards the purple…least amount of seams.
Can you see the whale?
Let's add a few details to make it a bit more obvious. I drew an oval and a circle onto Steam a Seam Fusible. I ironed the oval onto a piece of scrap white fabric and the circle onto a piece of scrap black fabric. Then, I ironed it onto my 'whale' to make a cute eye!
For the mouth I drew a line and then stitched along it with some black thread. I think it would be better to embroider it and make it more obvious.
And with that…your 'Square Dancing Whale' is complete! Thanks for following along and I hope you enjoyed this block tutorial!
Get a FREE printable PDF by heading to my
Craftsy
page and getting the FREE
Square Dancing Square Block Tutorial
. Don't wait too long though! Starting in February there will be a small fee for the
Printable
PDF pattern...you'll still be able to view it on my blog for free though.
Last touch before adding the back to make it into a pillow...I tacked the 'lip' down in a few places to create a three-dimensional 'wave' effect. I'm super happy with him.
I can't wait to see what all your blocks look like! Be sure to share you blocks and any projects you make using your blocks onto our flickr group:
52 Blocks Quilt Along
Instagram/Twitter Hashtag: #52bTT